Hi all! It's been a while and I'm gonna try to blog every couple of days. We'll see how that goes!
All images are linked!!!
You want to see the new stuff right?!?!?!
Well, let's go then...
This is a new one from Amanda Kay who is back with a brand new computer!
She held a contest for the name and she went with Vibrant Spirit: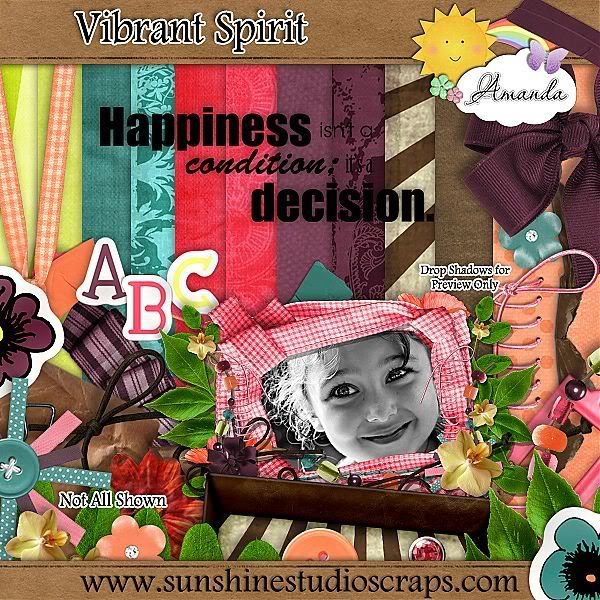 Shawn also has a new kit in the Sunshine Shop- Frugal Pleasures:
AND brand new today is Moon Scraps new kit: Nursery Chest. I'm so excited about this kit because it obviously for babies, but is not the usual things!
Now, there are lots more new things and you can see them all on the
front page of the shop
or on the
Sunshine blog.
Other Sunshine news:
New Designers!! They have been chosen, but not announced to the world. If you want a sneak peek, go to
the welcome thread
and see who is brand new. It will give you some ideas of the spectacular designers joining the already awesome Sunshine designers!
July QP Olympics! This month we are featuring a super kit by Monica (mgl scraps). It is Cinnamon Breeze and it is soooo awesome.
And if you look at the thread (image is linked), you'll see some awesome QPs already! I have mine done, but will show you later in the week!
Now, my other designers have been busy as well!
Katie has a new kit out: Melissa. She also has a bracket album to coordinate and a FREE QP on
her blog
now!!
And remember, Katie has all of her new stuff 25% off for it's first week!!
Bratty Sisters also has a couple new kits coming out! It's been a while, but these are so pretty! I can't wait to show them to you!!
Jen Maceyunas has a new Scrap A Sketch because of her challenge at Digitals. You should check it out!!
And guess what! Yep, a freebie! This freebie is small, but it is my first ever CU freebie! Hope you enjoy it!! Click the preview to download!
Until next time!