Hi everyone!
Sunshine news:
We have redone the challenge structure over at Sunshine! Now, you can earn points which you can redeem for coupons! Make sure you check out this thread for all the details! I'm telling you, it's awesome!!
Unveiling the Mystery: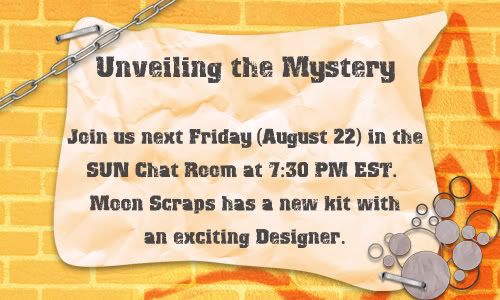 and after the unveiling will be a speed scrap! Bring pics of your kids looking cool or urban pics if you don't have any of your kids looking cool!
New kits that are awesome!
From Mimi: I Do and Meg's Garden
From Denise (a super cute boy kit!): Dany Boy
There are others too! Make sure you check
The News Stand
or the
Shop
for all the new kits!!
ooh ooh ooh! I almost forgot! Amy Sumrall made me this a while ago and now she will make you one too!
Check this out:
Katie Mann news:
It's still her birthday month, so still lots of sales going on!
She has a new challenge on her blog!
She has a new bracket album daily download on her blog!
Check out
Katie Mann's blog
for all the details!
Bratty Sisters news:
I haven't had a chance to work with them yet, but I can't wait to!!
Oh no, I almost forgot! I promised to show you my QP Olympic page! So here is mine:
And the QP:
Don't forget that you can join in! All the
details are here
!
Ok- I promised you a freebie! Yep, there is one! It is for the first challenge I have posted at Sunshine! Here is a look-see:
You have to go
here at Sunshine
to get it and all the details of the challenge!!