Well, the first of many (hopefully!) Sunshine Wonder Weeks is here! This month, we are celebrating the Sunshine Collab kit Missing Yesterday. If you don't have it, you should definitely get it! Here is a preview and it's even linked to the store for your convenience.
To celebrate, we have so much going on! There is a special area at Sunshine Studio Scraps just for all of the fun!! Here is a schedule of events and it is linked to the forums at Sunshine: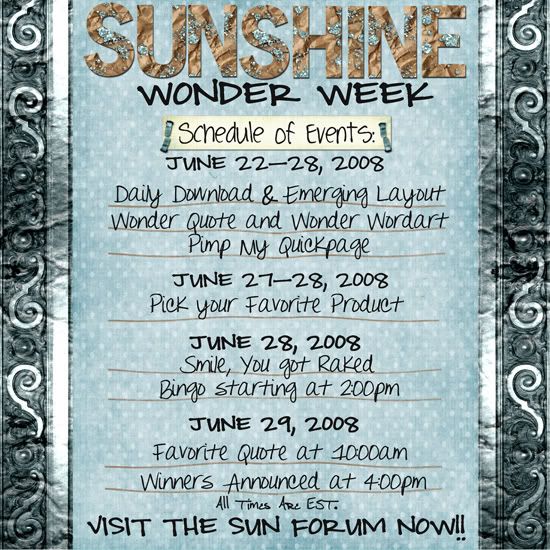 Make sure, make SURE you check out the
Sunshine blog
for the daily download! It is a mini-kit made by us Wonder Girls that matches Missing Yesterday. It is called The Missing Bits and Pieces of Yesterday. I made the alpha that is in one of the downloads and I think it came out very well! Also if you like making LOs, make sure you check out all of the LO challenges: WordArt, Quote, Emerging LO using the daily download, and Pimp my Quickpage. Also, there will be some random RAKs on the 28th and a Bingo game that day as well! Don't forget to join in on the fun this week!!
Also, Catlady's birthday sale is still going on! If you want to leave her birthday wishes, her blog is here:
Catlady's blog
Katie Mann has a cool sale going on right now too! It is called Baker's Dozen! Check out her blog for all the details:
Katie's blog
ok- now what you all came for: the freebie! I swear I'm liking these bookmark templates! I love that they are easy to make and print. I can have my kids with me at all times!! YAY!
Here is today's (click on the preview to download):