Wow! I've been a bad blogger!
We watched the Superbowl at my parents' house. It was so cute to see my nephew and my son together! Since Ryan is only 5 months older than Dominick and running around, it was fun to see them. Since then, Dominick has decided he needs to walk and/or run everywhere! It is so funny. I guess he needed to see how it was done! LOL I have some great pics I can't wait to scrap.
My sister got her wedding photos back as well! My goodness she is beautiful! I now have more than 400 photos to scrap and I can't wait!!
What is new in digi-land?
At SUN:
A new QP Olympics featuring Black Tie Affair from Designz by Kristi and Amanda Kay: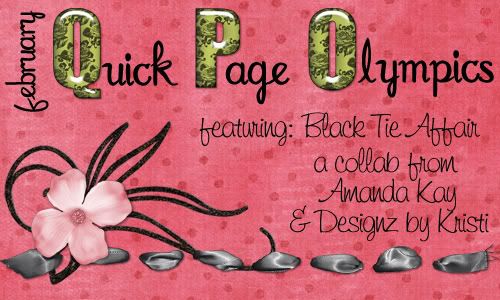 Check it out and join us!!
Also, check out our forum for our weekly challenges and speed scrap! Join us if you can!
From some Sunshine Girls who have hearts of gold:
This is a charity kit for Fairytale Studios aka Mellisa who was in a terrible car accident. I bought it- it really is a great cause- and it is jammed packed with yummyness! If you can spare the $5, I am telling you it is a GREAT deal!!!
ok- as I sit here and write this Dominick (13 months) is "driving" his car vrooooooom! How do they know how to do that? Is it genetic? LOL Sorry, random thought!
Bannerwoman has some great new styles available! Check these out- they are awesome!!
ok- last but not least. I am part of an amazing team at
Polka Dot Plum
! These 2 ladies are incredibly talented and their CT is as well! Enjoy this QP from
Sensory Overload
. If you want more, you should start
here
. Click on the image to download!
Check tomorrow at
Misty's blog
!